Russian President Vladimir Putin was surprised to put his shoes on the ice in a hockey game in Red Square. President Putin wore the number 11 shirt. He was in the team with Defense Minister Sergey Shoigu and former hockey stars Pavel Bure and Viacheslav Fetisov.
In this match, the Russian president's team won with a score of 14-10. According to some sources, Putin scored a goal in this victory, but the press did not specify how many goals he had scored.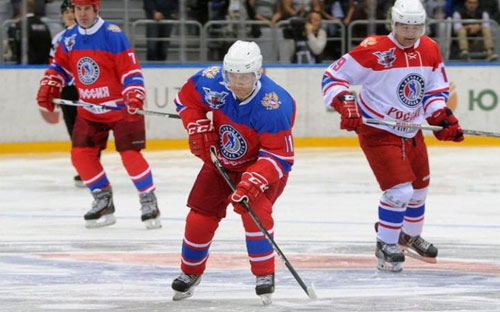 The game was attended by high-ranking political leaders in Moscow and hockey stars who retired from Russia. This tournament has become a regular event in recent years, held before the Orthodox Christmas Week on January 7.
"It's a good kind of entertainment. I think this is a good reason to play hockey before the new year," Putin told Russia news channel 24.Russian President Vladimir Putin has long been known as a sports enthusiast. He has black belts in Judo and is very passionate about swimming and hunting.
President Putin revealed himself very interested in sports, can pull the bar 17-17 pieces. Putin won many awards for Judo and things. In 2006, Putin was nominated as Honorary President of the European Judo Society. In addition, Putin also holds the Karate black belt. In November 2014, the international organization Kyokushin-kan on Karate awarded Putin the 8th rank of Kyokushin-kan.
With a healthy body, President Putin does not hesitate to participate in activities that require muscle flexibility. Once he personally extinguished the fire in the Ryazan forest fire, dived deep into the bottom of Lake Baikal and the Black Sea, behind the wheel of a Formula 1 racing car, sitting on a Su-interceptor fighter. 27 and test drive the Tu-160 strategic bomber.
Many people admire President Putin's extraordinary ability to work. A day of his work at the Kremlin usually lasts overnight and ends the next morning, despite the heavy schedule. Surprisingly, he still had enough time to ensure his health. "President Putin is a living person who complies with the schedule he set out. Even when his day worked for the next morning, he still went swimming and practiced in the gym, "Kremlin spokesman Dmitry Peskov said.